Scottish Wildcats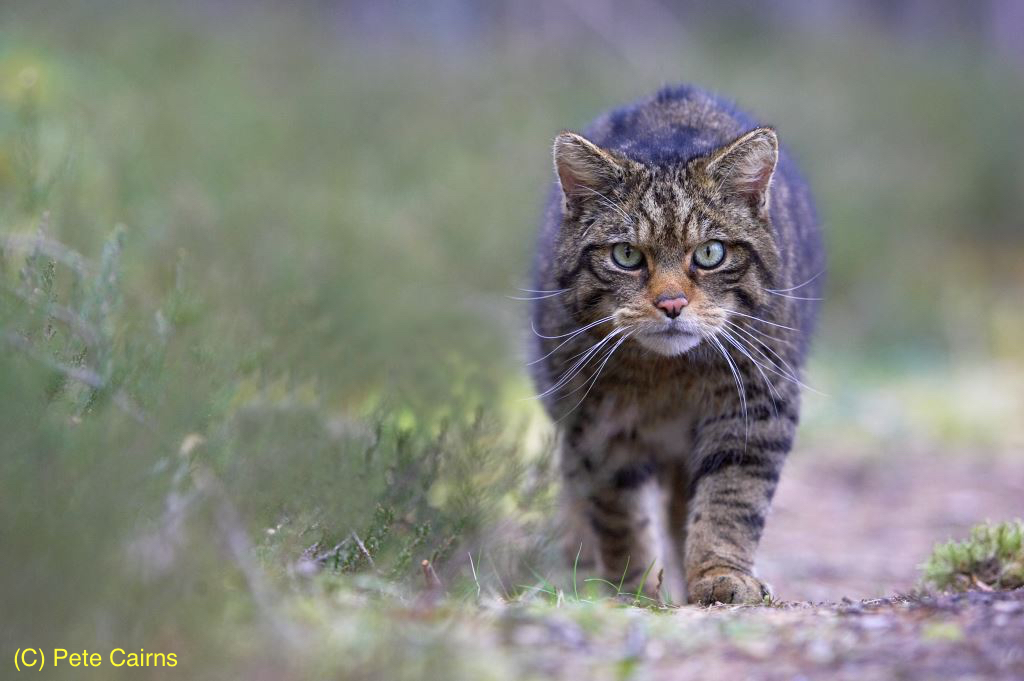 This project is available for public Spotting but Trapping is restricted. If you would like to join this project as a Trapper please contact us at info@mammalweb.org.
Scottish Wildcats Project (Scottish Wildcat Action). This project includes official (Scottish Wildcat Action) and community-led surveys throughout the range of the Scottish wildcat.
The Scottish Wildcat is critically endangered due to factors including historic persecution and hybridisation (or cross-breeding) with feral domestic cats. While wildcats are legally protected, the on-going hybridisation makes identification difficult, leading to the risk of accidental persecution by gamekeepers during legal predator control. Scottish Wildcat Action (SWA) is the first national conservation partnership working together to try and save the species from extinction.
Launched in 2015, SWA is a five-year project funded by the Scottish Government and Heritage Lottery Fund, supported by over 20 partners in the conservation, scientific and land management communities. This includes a Steering Group comprising Scottish Natural Heritage, Royal Zoological Society of Scotland, Cairngorms National Park Authority, Forestry Commission Scotland, National Museums Scotland, National Trust for Scotland, Royal (Dick) School of Veterinary Studies at the University of Edinburgh, Scottish Gamekeepers' Association, Scottish Land and Estates, and the Scottish Wildlife Trust.
SWA operates two complimentary programmes of work: in-situ conservation of remaining wildcats, and ex-situ conservation breeding.
The current in-situ conservation work is focused on five of an initially selected six 'Wildcat Priority Areas' across the north of Scotland: Strathbogie, Strathspey, Strathpeffer, Angus Glens, Morvern, and Strathavon (although work was halted in Strathavon in 2017). Every winter, SWA carries out systematic monitoring for wild-living cats (wildcats, hybrids, and feral domestic cats) in all or most of these areas. This is more difficult than it sounds.
Conservation efforts for the Scottish Wildcat have been hampered in the past by a lack of population data. Wildcats are rare and behaviourally elusive, often living in remote areas at very low densities, and primarily being active after dark. Extensive recent and historic cross-breeding with feral domestic cats means that all wildcats are now hybridised to some extent, some more than others, making wildcat identification and verification of sightings incredibly challenging.
SWA trail-camera surveys
Our surveys use a network of 60-80 baited trail-camera stations in each Priority Area to a) locate wildcats, b) collect population data, and c) target our conservation action (primarily trapping and neutering/vaccinating feral domestic cats and hybrid cats with a low wildcat contribution). The majority of our trail cameras are run by trained local volunteers.
Since the project began in 2015, we have collected a vast number of trail-camera images from our six sites across Scotland, including thousands of cat images, plus the hundreds of thousands of images of all the other wildlife that just happened to walk by ('by-catch'). We are asking for help from our current SWA volunteers and any other interested individuals to identify and classify these images, so that the cat data can be analysed more quickly, and the other wildlife data can be collated and made available. Become a MammalWeb 'spotter' to help us.
Guidance in the identification and classification of wild-living cats (wildcat, hybrid, or feral domestic) can be found on our website.
Note that wildcat surveys typically involve baiting camera sites to attract carnivores. The attractant is often a dead gamebird, which can usually be seen in the picture. Please don't classify the dead gamebirds!  We are only interested in living wildlife in the pictures.
Surveys out-with Wildcat Priority Areas
We are also keen for anyone with a trail-camera to help us extend our survey efforts as far and wide as possible across the north of Scotland. Become a MammalWeb 'trapper' for us. Guidance in camera-trapping for wildcats can be downloaded from our website. Data can then be uploaded to this MammalWeb project page. Just make sure you link your trapping site to the relevant 'Scottish Wildcats' project when you upload. Surveys out-with the priority areas will be divided into different regions (see map, below). If your region is not yet available, please contact info@mammalweb.org who can ensure that you can upload to the appropriate region's project.
For more information about SWA, please visit our website www.scottishwildcataction.org.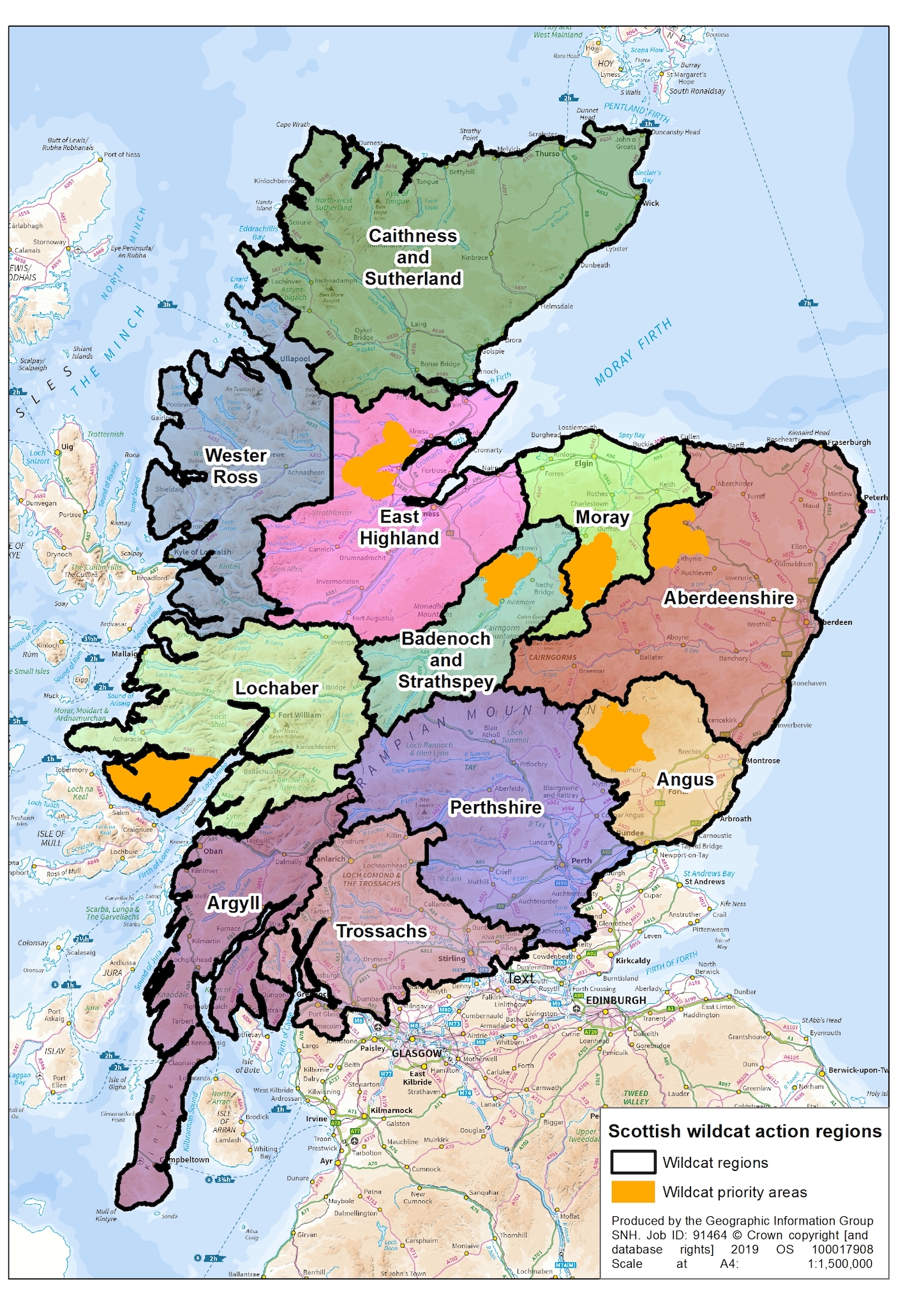 This project has the following subprojects:
SWA formal wildcat survey
Other regional wildcat surveys
SWA formal surveys in Angus Glen
SWA formal surveys in Morvern
SWA formal surveys in Strathavon
SWA formal surveys in Strathbogie
SWA formal surveys in Strathspey
SWA formal surveys in Strathpeffer
Wildcats Caithness and Sutherland